Disinfecting Service For The Coronavirus & More
As COVID-19 has spread throughout the world, concerns about communicable diseases of all kinds have grown. Now, more than ever before, people see the need for products and services that effectively eliminate these threats to our health. At Pestmaster® Services of San Antonio, we are ready to provide you with the services necessary to mitigate the risk of Coronavirus and other diseases for your employees, customers, staff, or students.
Over 40 Years Of Experience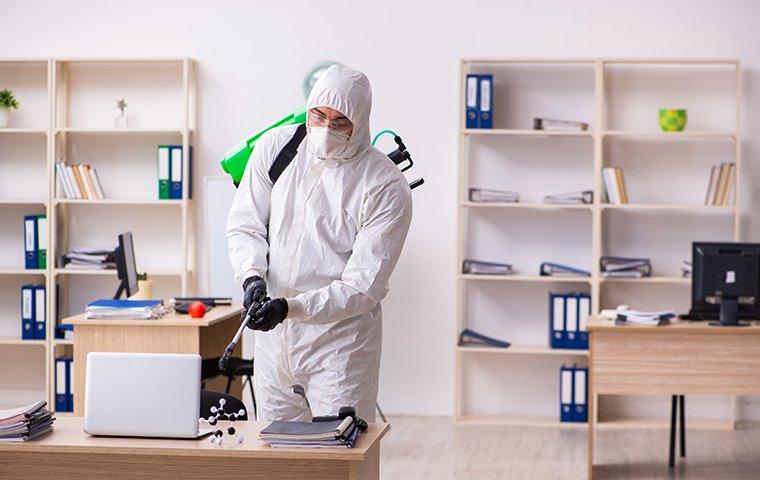 At Pestmaster® Services, we have over 40 years of experience in reducing biohazards of all kinds. From that experience, we've put disinfecting services into place that are highly effective. No matter the job's size or scope, we provide this service to all sectors, from government buildings to college campuses.
Through the use of sprayers, foggers, and Ultra Low Volume (ULV) machines that disperse the product, we deactivate harmful pathogens, including COVID-19. For maximum efficacy, surfaces should remain damp for at least 10 minutes. Our goal is to provide 100% coverage to high traffic and high touch areas, such as handrails, doorknobs, tables, chairs, public transportation, and more.
Our Effective Protocols
We have developed highly effective protocols based on recommendations from the CDC and WHO to ensure the health and safety of all. These protocols include the following:
We treat our tools, facilities, and high-touch areas daily.

Our technicians wear proper Personal Protective Equipment (PPE).

Our technicians properly dispose of our PPE.

Our technicians use hand sanitizer after removing protective gloves.

Our technicians maintain proper social distancing during inspections and treatments.

Our technicians do not perform any treatments if they show any signs of illness.
If your business requires disinfecting services, Pestmaster® Services of San Antonio provides high quality, highly effective treatments with the highest regard for the safety of everyone involved. Contact us to learn more or to schedule a treatment.